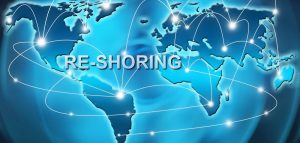 Re-Shoring is the opposite of Off-Shoring, or bringing back outsourced work to the US.  wikipedia.com October 2012

Offshoring is defined as the movement of a business process done at a company in one country to the same or another company in another, different company. Almost always work is moved because of a lower cost of operations in the new location.  wikipedia.com September 2012
Additionally BSP Software has Project recovery expertise with a proven ability to take on a failed enterprise project and turn it around into a profitable, efficient well-engineered and managed asset.

We  speak the same language
We understand US Business practices
We will be here when you need us
We listen to your requirements and present solutions
We develop to your needs
We understand that requirements change so we are always ready to accommodate the change
We do not sleep when you are up
Nor do we take a week-long company-wide vacation
Meeting face to face is easily possible
We know how to get things done
We have decades of experience
We can supply multiple references
Open source/public domain projects
Get better value for money
Consider how much can be done in an hour before you compare hourly rates reference
Reworking is much more expensive than quality work
Software delivered in time saves money